For a smooth, sophisticated take on raw power and enough passenger space for the entire Brady Bunch, you can't go wrong with the 2017 Lincoln Navigator or the Cadillac Escalade. But which of these full-size SUVs is right for you and your family? Will the Escalade tow the enormous boat you just bought? Is the Lincoln Navigator smooth enough for your highway commute? Don't remain in suspense - read our comparison guide to learn more.
2017 Lincoln Navigator vs Cadillac Escalade
Passenger & Cargo Space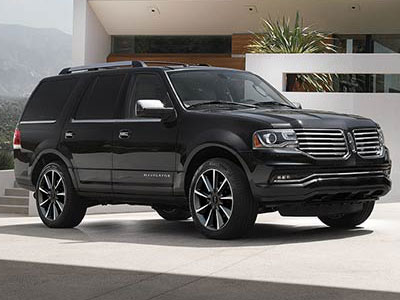 If you're looking for the high-end equivalent Brady Bunch's station wagon, the Lincoln Navigator is the SUV for you. All three rows are adult-friendly, so even Marcia and Greg fit comfortably in the rear seats. Bring the entire gang on cross-country road trips, with room to spare. The extended-length Lincoln Navigator also supplies best-in-class cargo space. Both the second- and third-row seats fold into the floor, creating up to 128 cubic feet to haul new patio furniture and the like.
The extended-length Cadillac Escalade also supplies substantial cargo space. With up to 120 cubic feet for your hauling needs, it's easy to transport a family's worth of camping or picnic gear. On the downside, the Escalade's third-row seats were intended for small kids only, so this cabin might not be a great fit for your growing gang.
Performance & Ride Comfort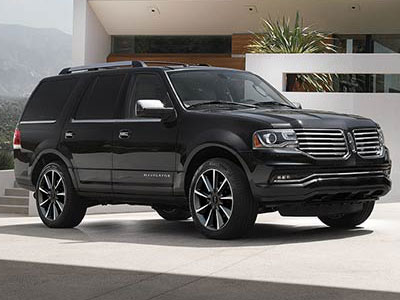 The Lincoln Navigator's smooth ride sets it apart from the competition. That's especially true on the highway, where the Lincoln Navigator's independent rear suspension offers nothing but smooth sailing. This full-size SUV gives you the star treatment in more ways than one. When it's time for your regular service, Lincoln picks up and, later, drops off your Lincoln Navigator, so you never have to worry about a thing. And, if you're a boat owner, you'll be pleased to find that the Lincoln Navigator tows up to 9,000 pounds - more than any other SUV in its class.
Like the Lincoln Navigator, the Cadillac Escalade pumps out smooth power to get you up to speed in precarious highway merging situations. Surprisingly, though, the Escalade's ride isn't the smooth, composed glide you'd expect from such a high-caliber luxury model. The occasional bump is a constant reminder that you're at the helm of a truck-based SUV. However, that truck-based chassis is good for one thing: towing. Properly equipped, the Escalade tows up to 8,300 pounds.
High-Tech Cabin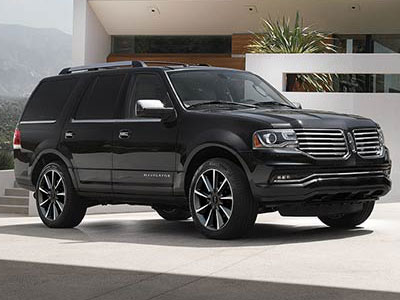 The Lincoln Navigator's Sync 3 infotainment system speaks for itself. Its touchscreen features bright, high-res graphics. It also responds easily to your touch inputs. You can use the system's voice controls to send voice-to-text messages to your kids, stream Internet radio apps like Pandora, and make hands-free calls. Sync 3 makes it easy to stay connected - without taking your eyes off the road.
Cadillac's CUE infotainment touchscreen looks sleek and modern atop the Escalade's center stack. If we have one complaint about this technology, it's that the touch-sensitive buttons aren't always as responsive as they could be. You may find yourself jabbing at the buttons for climate controls more than you'd like.
Refined Style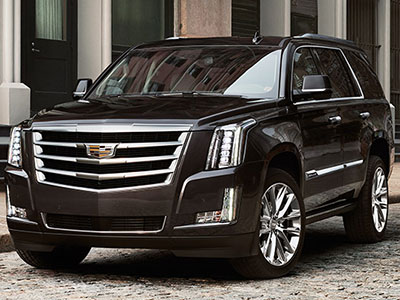 If you want to make a bold statement, you can't beat the Cadillac Escalade. There's much more to this SUV than its chiseled, high-profile stance. Inside, the premium leather upholstery practically drowns you in upscale comfort. Meanwhile, the Escalade's 16-speaker Bose audio system wraps you in cinema-quality sound.
We've already discussed how roomy the Lincoln Navigator cabin is - but it's also classy, with high-end leather seats and organized, clean-cut dash controls. However, you may come across a few plastic surfaces, like knob controllers.
Learn More about the Lincoln Navigator

The Cadillac Escalade's splashy style is sure to make an impression, but the 2017 Lincoln Navigator is the total package. It doesn't leave any boxes unchecked. It's your pick for best-in-class passenger and cargo space. On the road, it delivers the supremely smooth ride that drivers expect from a luxury SUV.