Today's auto market demonstrates no lack of quality and luxury. However, some brands and some models don't just offer luxury--they have it at their very core. Two such brands are Lincoln and Mercedes-Benz, and two of their best-known models are the 2017 Lincoln Continental and the Mercedes-Benz S Class. So, let's take a look at these two luxury automotive icons to see which one comes out on top.
2017 Lincoln Continental vs Mercedes-Benz S-Class
Comfort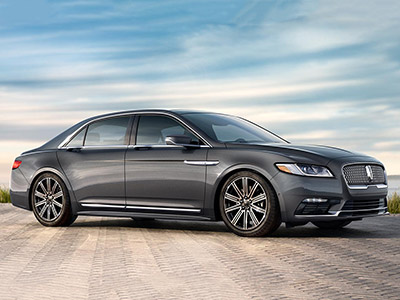 There's a traditional feel about the approach to comfort with the 2017 Lincoln Continental. Spaciousness is on display here, with nearly enough room inside to lie down, especially in the rear seats. Every seat is superbly designed and outrageously comfortable thanks to a delicate balance being struck between firmness and softness. Rear leg room is generous at 41.3 inches, while the 44.4 inches in front seats is positively cavernous. Cargo space isn't sacrificed to achieve this spacious cabin, either!
The S-Class isn't cramped by any means, but with 41.4 inches of legroom in the front it just doesn't measure up to its rival here. The seats themselves are every bit as comfortable as those in the Lincoln Continental, but you'll have to pay a lot to be as comfortable in the Mercedes as you are in the Lincoln Continental. It's close, but the S-Class just falls short here.
Exterior Styling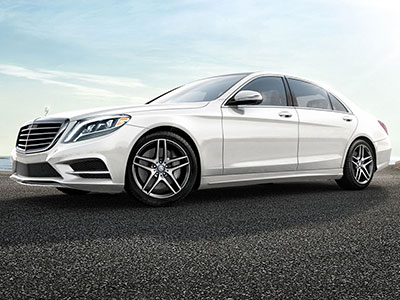 The 2017 Lincoln Continental sedan takes a different approach to styling than the Mercedes. The Lincoln Continental is a handsome, statesmanlike sedan with a lot of presence. It's an attractive and balanced large sedan with just enough of an element of glitz to suit its sizeable proportions. There's no attempt at being sporty, which is either a plus or a minus depending entirely on your point of view.
The Mercedes-Benz S-Class has a swoopy and curvaceous roofline that's particularly attractive, and a number of its styling cues have found their way into smaller sedans in the German automaker's lineup recently. Its 2014 redesign only enhanced its iconic style, and exterior styling is definitely one of its strong suits. The Lincoln Continental is the serious executive sedan, but the S-Class's sportier elements perhaps give it a slight edge in the styling category.
Trim Levels and Features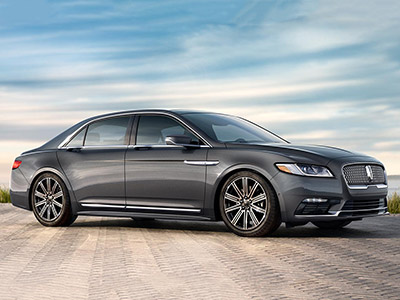 The 2017 Lincoln Continental offers four different trim levels: Premiere, Select, Reserve and the range-topping Black Label. The Premier trim is hardly what you'd call entry level, especially as the standard infotainment system is the all-singing, all-dancing Sync3, which includes an 8-inch color LCD capacitive touchscreen with swiping capability, 911 Assist,® AppLink,™ Apple CarPlay™ Support, Android Auto,™ and a pair of smart-charging USB ports.
The starting point to the S-Class lineup is the S550, which although still generously equipped, doesn't quite deliver what you get as standard in the Lincoln Continental Black Label for considerably less expense.
Advanced Safety Features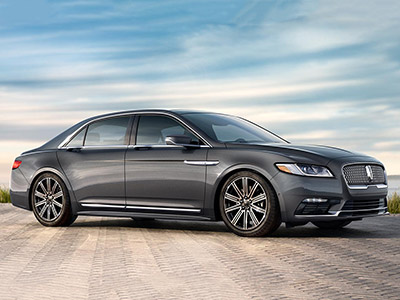 The Lincoln Continental offers a wide variety of high-tech safety features that can help you feel more at ease while you're driving. Adaptive cruise control, for example, allows your luxury vehicle to automatically adapt to its surroundings without worrying you with on and off adjustments. Pre-collision assist helps you avoid or lessen the impact of a crash, especially with pedestrian detection and active braking on your side. Add to that the standard offerings of smart airbags and a MyKey system that can adapt to the needs of any of the drivers in your household and you have a combination that breeds confidence.
The Mercedes-Benz doesn't offer as many bells and whistles as the Lincoln Continental in its safety arsenal. In fact, some of the more advanced safety features, including Active Blind Spot Assist and Active Lane Keeping Assist, that you can find standard on cars costing a whole lot less are only standard on the highest S-Class and AMG trims. In our mind, that's a mark against Mercedes-Benz here. You'd be entitled to expect them as standard here with a car costing as much as the S550. The bottom line here is the S-Class delivers less equipment for far more money than you'll pay for the Lincoln Continental.
Learn More about the Lincoln Continental

The Mercedes-Benz S-Class is a superb car, there's no doubt about that. However, with a starting MSRP at a palpitation-inducing $96,600 for the S550, you shouldn't need to pay more for what are fairly common advanced safety features, nor would you be out of line to expect a similarly spacious interior to the Lincoln Continental. With a starting MSRP of just $44,720 for the 2017 Lincoln Continental Premier, you're really looking at tremendous luxury and quality for budget-friendly luxury pricetag. When the interior space, technology, and safety features outplay the competition, you can know your vehicle is a solid contender-and that's exactly what the 2017 Lincoln Continental is.