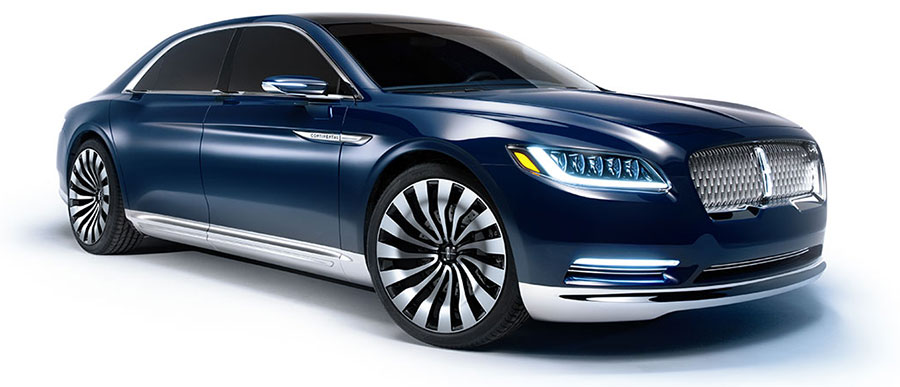 The 2016 Lincoln Continental is the brand's flagship luxury sedan. Redesigned with a sleek, modern look and cutting-edge convenience features, the Lincoln Continental has returned from a 13-year absence in stunning style. This up-and-coming sedan impresses with its cavernous cabin and extravagant comfort. Under the hood, Lincoln's exclusive EcoBoost engine provides both substantial power and impressive fuel savings. Come in and test drive a Lincoln today!
2016 Lincoln Continental
Inside, the 2016 Lincoln Continental offers first-rate passenger comfort. Even in this competitive segment, you'd be hard-pressed to find a bigger backseat. Up front, the seats provide 30-way adjustments, so anyone can locate the perfect position behind the wheel. The front seats are both heated and cooled for impressive comfort in any season. They also provide a massaging feature, so being stuck in traffic never feels like a chore. The cabin is designed to maintain an air of quiet calm, even at highway speeds.
The 2016 Lincoln Continental cabin is undeniably elegant, offering striking attention to detail. The current Lincoln Continental concept is Rhapsody blue - both inside and out - and its modern, monochromatic style adds to its upscale vibe. The soft wool carpeting makes you want to kick off your shoes and spend hours on the road. High-quality materials, including soft suede and sleek chrome, contribute to the Lincoln Continental's air of luxury.
If the Lincoln Continental concept car is any indication, the upcoming model will provide more fancy features than a first-class airplane cabin. With the touch of a button, an electro-chromatic sunroof goes from clear to opaque, effectively blocking excessive sunlight. The 19-speaker audio system enhances infotainment options with premium, clear sound. An automated swiveling iPad desk pops out of the rear center cubby. Two handsome Venetian leather attaché cases detach from the back of the front seats for quick access on your way to a power lunch.
The all-new turbocharged, 3.0-liter EcoBoost V6 engine is big on both power and fuel economy. On the road, the Lincoln Continental delivers quiet luxury, with a supremely smooth, comfortable ride. Although Lincoln has not yet confirmed many details, it's widely believed that the 2016 Lincoln Continental will offer all-wheel drive for excellent traction over slick surfaces.

Continental Safety
When it comes to safety, the newly redesigned 2016 Lincoln Continental comes in strong. It maximizes on-road authority with standard features like antilock brakes and stability and traction control. High-tech systems, such as forward collision alert, scan the road and let you know about any nearby dangers.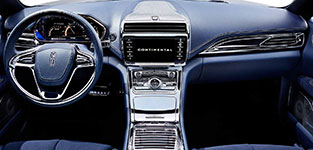 Sleek Tech Features
Infotainment options keep you connected from the highway.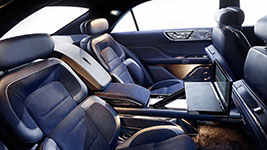 Backseat Luxury
Cruise around town in style and total comfort.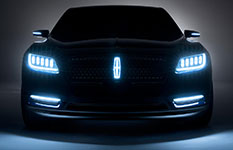 Sleek Exterior Style
The Lincoln Continental has never looked better.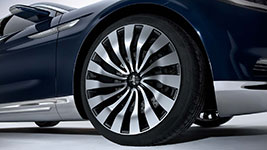 Chrome Trim
Impress friends and family with high-class bling.
Conclusion
If you crave quiet comfort and maximum luxury, put the new 2016 Lincoln Continental at the top of your list. Inside, there's an abundance of space for passengers to spread out and enjoy the ride. Upscale comfort features keep you in a state of utter content, no matter how far you have to travel. The EcoBoost engine proves itself, both in terms power and fuel economy. On the road, you'll enjoy a smooth, quiet ride. Come in and test drive a Lincoln today!